True 4K HDMI solutions with simple discovery for fast configuration and seamless integration with your ELAN systems.
ELAN introduces award-winning HDMI solutions for advanced audio and video systems of all sizes, from simple HDMI extensions to large-scale multi-source and multi-room A/V experiences. Designed and engineered to work seamlessly with any current ELAN controller, the new line maximizes options and flexibility. Auto-discovery with simplified configuration using ELAN's Configuration Software means project setup is reduced to minutes, where competitive systems might take hours to configure.
With a broad range of HDMI, HDBaseT, and soon Video over IP products, ELAN enables easy-to-deploy solutions for every opportunity, all backed by ELAN's rock solid reliability.
Choose the HDMI products built for your control system:
• Simple discovery
• Fast configuration
• Seamless integration
Choose 4K HDMI distribution with the features you need:
• True 4K HDMI
• ARC with an audio matrix
• Rock solid reliability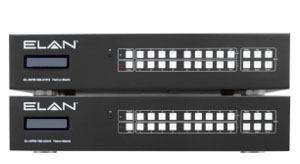 The ELAN Premium HDMI Audio/Video Matrices deliver the range of industry leading features expected in today's installations
.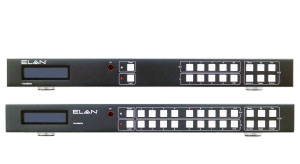 ELAN Video Matrix HDMI products deliver the range of industry-leading features expected from today's HDMI distribution products.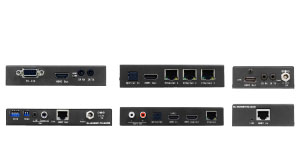 The ELAN HDBaseT Extender family delivers the full range of features expected from HDBaseT, including 5PLAY technology.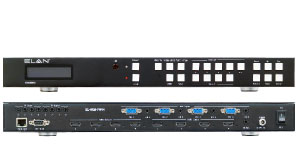 The ELAN 4 x 4 Seamless HDMI Matrix allows you to watch up to 4 HDMI inputs on a single TV. Use the Video Wall feature to easily turn multiple video monitors into a single large scale image.